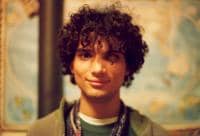 Juan Esteban Ruiz was arrested during the No Borders Camp at the U.S./Mexican border on November 11, 2007, while playing the drum, in other words, using his rights to free speech, peaceful assembly, and redress of grievances specified by the first amendment to the U.S. Constitution. He was charged with two counts of assaulting a federal officer. The charge was reduced to "interfering" with a federal officer. The case is now closed, as detailed below.
Federal case completed
On Feb. 19, 2008, Juan appeared in Federal Court in San Diego on charges stemming from his participation in a protest at the U.S.-Mexican border on Nov. 11, 2007. We are happy to report that his case was resolved without endangering his immigration status. Juan agreed that he had been present at the protest, playing his drum, and had been too close to the Border Patrol officers. The judge commended Juan for his volunteer work and social activism and said that he wished more young people were as engaged as Juan. The letters of support from Juan's teachers, family, friends, fellow activists and community members, were very helpful in showing the judge and prosecution about Juan's open and caring character. Juan is back in Madison, Wisconsin. He needs to complete 100 hours of community service – never a problem for him! – and will be on probation for 2 years. After that, we hope that Juan will attain his U.S. citizenship. He is truly "one of ours" and deserves the protection of citizenship. We don't anticipate any further legal costs for this case, though he will need help for naturalization in the next few years. We thank everyone for their support. Truly, he would not have been able to do this on his own. Gracias a todos.